Wedding Reception at City Art Gallery in Columbia, SC | Michelle and Roger
If you are considering having your wedding reception at City Art Gallery in Columbia, this is a great wedding for inspiration!
Michelle and Roger actually had their wedding ceremony AND reception at City Art Gallery, but today I want to focus on showing you photos from the reception.
As soon as the ceremony ended, the staff at City Art started flipping the room to prepare for the reception.
One thing to note about City Art Gallery is that it is located right in the heart of the Vista in Columbia. Because of that, parking can be limited, especially on a Saturday night. Fortunately, there is a parking garage less than 2 blocks away, which provides plenty of parking for the guests and only a short walk to the reception venue.
The great thing about being in the Vista is that the atmosphere is perfect, and it also provides great backdrops for photos if you feel like getting out and exploring a little with your photographer 😉
One of my favorite things about City Art is that they partner with Applause Catering to provide delicious food! They have some creative ways of presenting their food, like these little BBQ and slaw bowls. I love the little sauce dispensers with different flavors of sauce! Of course no wedding reception is complete without a cake, and the strings of Christmas lights make the perfect backdrop for your wedding cake at City Art.
The second level gallery is a perfect place for the bride and groom to escape for a few minutes before being announced and walking down the stairs to the dance floor.
Another thing I love about shooting a wedding reception at City Art Gallery is the way the lights provide a perfect background for photos all around the room. You'll notice them in almost all of these reception photos. They also provide a perfect warm glow and make skin naturally warm (and I love warm skintones). I especially like to capture the lights in the background of the first dance, the father daughter dance, and the mother son dance.
No matter where you go in the room, the lighting and background looks great! That is also a great thing for all of your guests who want to take selfies and random group pictures!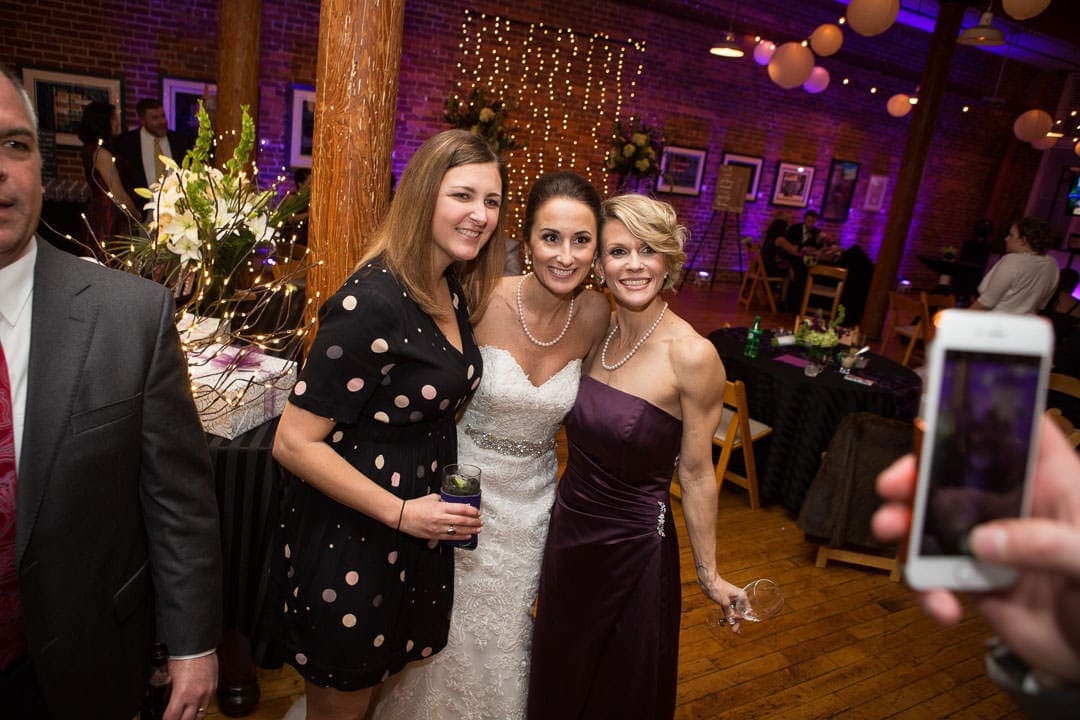 Here is a random wide shot of the room showing all of the lights including the additional uplighting that was brought in by the DJ.
We had a few minutes to take pictures of the bride and groom alone (pro tip: sometimes it is nice to take a quick break from your reception and spend a few minutes alone together). We went upstairs into the art gallery and got a few shots!
Everyone loves to have a good time and get out on the dance floor.
Of course, what reception is complete without a sparkler exit? Oh, and since you're in the Vista, your guests can continue the party nearby if they want!
Hopefully this gives you an idea of what a wedding reception at City Art feels like! Be sure to check out their website (link below) for more information!
If you are looking for a photographer for your wedding reception at City Art Gallery, we would love to talk! Fill out our
contact form
and let us know more about what you have planned!
Vendors At This Wedding Reception At City Art Gallery